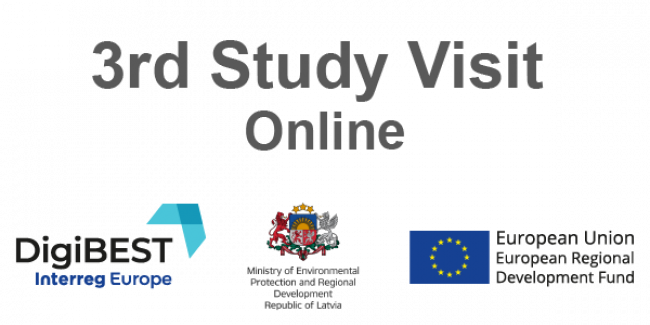 We kindly ask you to register to the "3rd Study Visit" which will be held on Wednesday, 14th April (9.30 a.m. - 1.00 p.m., Central Europe Time) on the Zoom platform.

Deadline for the registration – 12th April 2021.

For detailed information of event please find attached draft AGENDA.

1st Room – The comprehensive communication and training programme to inform and encourage society to use online services offered by the government. Read more here!
2nd Room – Free individual mentor consultancy for SMEs (including home producers) to establish their visual identity on the Internet & increase market competitiveness. Read more here!
3rd Room – DIH offers a set of support measures for SMEs to acquire knowledge on the actual digital solutions & improve problem-solving capabilities. Read more here!
4thRoom – Project that helps Latvian companies in digital transformation by providing an easy-to-understand and convenient assistance (maturity tests & recommendations). Read more here!

If the answer is "No", please, contact the event organizer by e-mail address: julija.kovalska@varam.gov.lv to explain the reasons and reach a compromise.
By taking part in this event, you grant the event organisers full rights to use the images and video resulting from the photography/filming/recording, and any reproductions or adaptations of the images/video, publicity or other purposes to help achieve the event aim. This might include (but is not limited to), the right to use them in printed and online publicity, social media, press releases and reports. If you do not wish to be photographed/filmed/recorded please inform an event organiser: santa.sipola@varam.gov.lv.

Please be informed that the data controller is MoEPRD, Peldu Street 25, Riga, LV-1494, Latvia and your contact information will be used only by the controller's representatives to contact you and organize DigiBEST 3rd Study Visit online (event). The legal basis for data processing is based on your consent (Article 6 (1) (a) of the General Data Protection Regulation). Please note that your personal data provided in the event registration form will only be used for the purpose of organizing the specified event and will not be sent to third parties. Your personal data will be stored until the end of the second phase (07/31/2023) of the DigiBEST project and will be deleted when it expires. Please be informed that you have the right to withdraw your consent at any time. Withdrawal of consent does not affect the lawfulness of processing based on consent prior to withdrawal.

In case of questions, you have the right to contact the MoEPRD by e-mail das@varam.gov.lv, including to withdraw your consent. You have the right to submit a complaint to the Data State Inspectorate.